U.S. News and World Report | Best Lawyers, Best Law Firms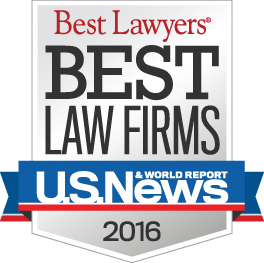 Firm Listing: *
2016 First Tier, Personal Injury Litigation, Syracuse, NY
2015 First Tier, Personal Injury Litigation, Syracuse, NY
2014 First Tier, Personal Injury Litigation, Syracuse, NY
2013 First Tier, Personal Injury Litigation, Syracuse, NY
2012 First Tier, Personal Injury Litigation, Syracuse, NY
2011 First Tier, Personal Injury Litigation, Syracuse, NY
2010 First Tier, Personal Injury Litigation, Syracuse, NY
* Bottar Law, PLLC, is the only personal injury Firm in Syracuse ranked every year since 2010.
---
The U.S. News - Best Lawyers "Best Law Firms" rankings are based on a rigorous evaluation process that includes the collection of client and lawyer evaluations, peer review from leading attorneys in their field, and review of additional information provided by law firms as part of the formal submission process. To be eligible for a ranking in a particular practice area, a law firm must have at least one lawyer who is included in Best Lawyers in that particular practice area.
Lawyer evaluations include a review of expertise, responsiveness, integrity, cost-effectiveness, whether they would refer a matter to a firm, an whether they consider a firm a worthy competitor. In addition to information from these surveys, the rankings incorporate the 4.9 million evaluations of 50,834 individual leading lawyers collected by Best Lawyers in its most recent annual survey.
From www.bestlawfirms.usnews.com
.