Media
March 2008:
$16 Million Verdict
Friday, March 28, 2008
The Honorable Diane L. Fitzpatrick issued a verdict today of $16,033,811 to the family of a now 15-year old girl who suffers from cerebral palsy, mental retardation and seizures as a result of medical malpractice surrounding the management of her mother's high risk pregnancy in January, 1993. The verdict from the State of New York Court of Claims may represent the largest such verdict ever from that Court in any medical negligence case.

Mrs. DuPont was born with a congenital abnormality known as a bicornuate uterus, which made her pregnancy prone to numerous complications, including placental abruption. This condition, in which the placenta prematurely separates from the uterus, leads to massive bleeding and loss of fetal blood and oxygen. The DuPonts contended that because of the bicornuate uterus, along with additional risk factors, the attending obstetrician should have either induced labor or performed a cesarean section delivery when the pregnancy reached term, or 38 weeks' gestation. In fact, Mrs. DuPont's obstetrician, an employee of the State of New York working at SUNY Upstate Medical Center in Syracuse, had documented his plan to perform an induction when the pregnancy reached term.

For reasons still not clear to the DuPont family or their attorneys, when the pregnancy reached 38 weeks the obstetrician changed his plan, and decided not to induce labor. At 39 weeks, a catastrophic complete placental abruption occurred. An emergency cesarean was performed just in time to save the life of Kayla DuPont, but only after her brain had been starved of oxygen long enough to cause severe brain damage.

At trial the DuPont family presented expert medical testimony in support of their malpractice claim, along with extensive expert testimony describing Kayla's extraordinary medical and related care needs. The Court's verdict included more than $10.5 million for future care needs, more than $1.5 million for lost earnings and $2.7 million for past and future pain and suffering.

The DuPont family was represented by attorneys Daniel S. Weinstock and Edward S. Goldis, both of the Philadelphia, Pennsylvania law firm Feldman, Shepherd, Wohlgelernter, Tanner, Weinstock & Dodig, and by Edward S. Leone, of the Syracuse law firm Bottar & Leone. Although it is not yet clear whether or not the state will file an appeal, attorney Weinstock, who was lead counsel for the DuPont family, is confident that the Court's award and the thorough Opinion supporting it will withstand appellate scrutiny. Attorney Weinstock is satisfied that the amount of the verdict should be sufficient to ensure that Kayla will be able to receive the care she needs to be kept safe, to minimize her pain and suffering in the future, and to maximize her quality of life.
September 2007:

Damages Awarded In Crash
Wednesday, October 3, 2007
By Jim O'Hara
Staff writer

A City woman who initially was treated for cuts and bruises after a 2004 motorcycle crash was awarded more than $3.25 million in damages by a Syracuse jury last week for what turned out to be much more serious brain injuries.
The jury also awarded more than $162,000 to the woman's husband for a leg injury he suffered in the crash.
Stephen Salisbury, Jr. and Christine Dannible were on a otorcycle stopped at a red light on Park Street near the intersection of Buckley Road when a car rammed them from behind about 11:55 p.m., June 4, 2004, according to their lawyer, Anthony Bottar.
Dannible, then 32, was thrown off the motorcycle into the road and Salibury, 31, was propelled a short distance up the road with the motorcycle before the bike tipped over on him, Bottar said.
Salisbury suffered a compound fracture of the left tibia and Dannible was released from St. Joseph's Hospital Health Center after being treated for "bumps and bruises," the lawyer said. But the following day, Dannible was suffering from headaches, nausea and vomiting which became worse when she tried to return to work two days later, Bottar said.
A neurosurgeon later determined Dannible had suffered a concussion and was suffering from post-concussion syndrome, Bottar said. She ended up receiving treatment at University Hospital's Concussion Management Program but has not been able to return to work as a result of the brain injuries, the lawyer added.
The defendants in the case were Jonelle K. Christian as the driver of the car that struck the motorcycle, Anthony M. Christian as the lease holder of that car and Central National Bank as the owner of the car.
August 2007:
Onondaga County Bar Press Release
"VLP Campaign: An Impressive Start"
It was over a year ago when a dedicated group of attorneys assembled to address issues relating to the Volunteer Lawyers Project (VLP) and the unmet legal needs of indigent people in onondaga County.
The VLP is the pro bono publico arm of the onondaga County Bar Association and is guided by the OCBA's Pro Bono Practice Committee. []
[A] campaign under the auspices of the onondaga County Bar Association and the onondaga County Bar Foundation has been launched to establish a restricted fund, which will be used to help support a full-time VLP coordinator and other VLP operational needs. The theme of the campaign is "CNY Equal Justice-For-All Project."
The silent portion of the campaign has, to date, produced remarkable results. Thirteen law firms in the county have already made aggregate pledge commitments totaling $180,000, to be paid over three years. These firms include:
Bond Schoeneck & King

Bltiman & King

Bottar Law, PLLC

Costello Cooney & Fearon

Ferrara Fiorenza Larrison Barrett & Reitz

Gilberti Stinziano Heintz & Smith

Green & Seifter

Hiscock & Barclay

Mackenzie Hughes

Menter Rudin & Trivelpiece

Scolaro Shulman COhen Fetter & Burstein; and

Sugarman Law Firm.
May 2007:
Anthony S. Bottar confirmed as New York State Academy of Trial Lawyers Director-At-Large at 2007 NYSAOTL Law Day.
(Left to right: Senator Kevin Parker, Court of Appeals Chief Judge Judith Kaye, Anthony S. Bottar and Michael A. Bottar at the 2007 NYSAOTL reception)
February 2007:
Bottar Law, PLLC sponsors Syracuse Stage's "Mission Impossible" themed 2007 Beaux Arts Ball at onCenter. The event raised more than $80,000 for Syracuse's premier theatre, founded in 1974.
January 2007:
Bottar Law, PLLC sponsors the 7th Annual Scholar-Athlete Awards Banquet at the Turning Stone Resort and Casino. The event was put on by the Central New York Chapter of the National Football Foundation and College Hall of Fame Inc. Former Syracuse Unviersity football star Don McPherson was the keynote speaker.
January 2007:

Judge Chose Law Over Football
Court of Claims appointee went to law school, not NFL, after SU career.


Sunday, January 21, 2007
By Jim O'Hara
Staff writer


John Cherundolo was a highly recruited offensive tackle out of Virginia when he paid a visit to the Syracuse University campus to see what it would be like to come here to play college football.
[ ]
He later turned down a contract that would have allowed him to follow his father into a pro football career, opting to attend law school instead.
And now he has decided to walk away from a hugely successful law practice to take a job as an appointed Court of Claims judge.
[ ]
Cherundolo - a founding partner in the Syracuse firm of Cherundolo, Bottar & Leone - said his success as a civil litigator has been from "hard work, being prepared, knowing the law and learning the law and having a good staff around me."
A native of Pittsburgh, Cherundolo graduated from Syracuse University in 1970 and the SU College of Law in 1973. He worked for a corporation and a couple of local law firms for nine years before he and lawyer Anthony Bottar established their firm in 1983.
[ ]
Having handled close to 300 trials, Cherundolo said he has "learned all the tricks" and hopes to be able to use his knowledge to keep cases moving efficiently.
October 2006:

Bottar Law, PLLC sponsors the Onondaga Historical Association's 10th Annual "Glorious Workplaces" dinner.
September 2006:

Regent Given Tribute
Thursday, September 7, 2006
Anthony Bottar, a Regent for the state education department, won the North Syracuse Education Association's Friend of Education Award.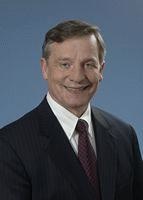 March 2006:

Anthony Bottar Re-Elected To State Board of Regents
Wednesday, March 15, 2006
Anthony S. Bottar, of North Syracuse, was re-elected to another five-year term on the education policy-setting state Board of Regents Tuesday. [] Bottar, who has served on the board since 1996, represents onondaga, Oswego, oneida, Jefferson, Lewis and Herkimer counties - the state's 5th Judicial District.